If you miss that smoky, sumptuous satisfaction of barbecued meat you won't want to miss out on trying your hand at BBQ jackfruit.  Today I prepared the jackfruit to be the star in my BBQ Jack tacos with pineapple salsa singing backup.
The aroma spilling from your kitchen will make everybody want to see what's cooking with this recipe. I love the Tex-Mex style of these tacos.  Pairing a bright pineapple salsa and a crisp, tart red cabbage slaw with the smoky and savory jackfruit meat, it's just freakin' crazy good.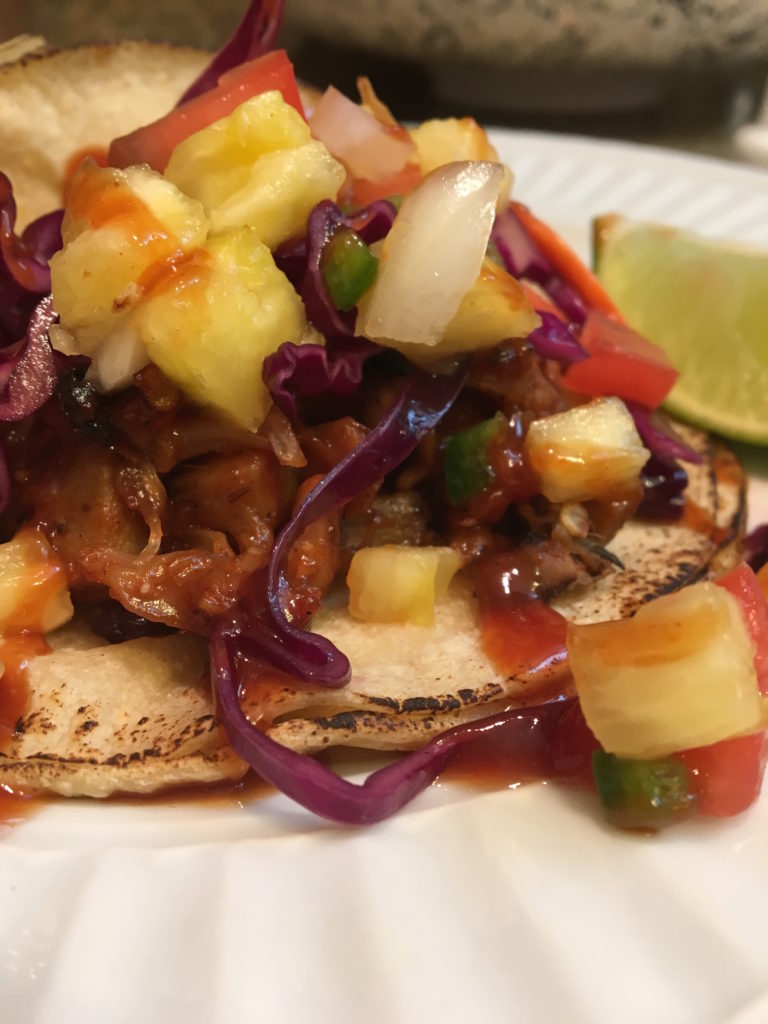 Many people now are discovering this intense looking fruit for it's ability to mimic pulled pork or chicken.  My sister drove my desire to create these tacos when she made me an amazing version of vegan pulled pork sandwiches.  They were intensely satisfying, so I wanted to take that flavor profile and run with it.  A decent amount of time is needed to inject the right amount of BBQ flavor, so make sure you have at least 2 hours to work with.
My biggest difficulty with this recipe was the hunt for jackfruit.  I know for a fact these fruits grow here in SWFL, yet tracking one down proved to be out of my scope.  Thankfully it was brought to my attention that jackfruit is sold canned too!  I then found them at the new location of the Asia Market on Pine Ridge Rd. right here in Naples.  They sell canned jackfruit a few different ways and they all taste drastically different.  In fact, the jackfruit is the official source of Juicy Fruit gum!  You might imagine that flavor profile would not work in a dish such as these tacos, so when hunting down the canned version for savory meals you will want young, green jackfruit in water or brine.  When it's young the sugars haven't fully developed yet.  I finally did manage to track one of these elusive behemoths in the flesh, but just a bit too late.  So instead when I get my hands on it I will have a whole jackfruit post about them.
To start the "meat", you will need to drain and rinse the jackfruit segments. You'll see little round pits like Swiss cheese almost and you might even see a few of the pinkish seeds still tucked into the fruit.  Since it's been marinating in the can's liquid for so long they will be a bit mushier than the fresh fruit version.  It won't be terrible if a few are left in there, but for texture's sake I like to remove as many of them as possible.  If you were handling a fresh jackfruit for this recipe do your best to remove them all.
The appearance of the jackfruit meat is important to me especially when I'm trying to impress carnivores, so before I start to cook them I slice them through the core (lengthwise) for that stringy look.  Don't go overboard because the more you cut and stir, the mushier your jackfruit will become.  With the fresh fruit you will want all of the stringy meat around the fruit pods as your "pulled pork" texture.
I made my own collection of BBQ spices, but if you have a favorite vegan BBQ seasoning you can use 1/4 c of that in lieu of my spices.  After the fruit is cooked down with the spices and broth you can go in and start to pull it apart.  I use two forks to gingerly pull each each away from the other.  After you will want to bake the fruit at a high temp to crisp up some of the edges and drive home the texture of BBQ meat.  I originally used aluminum foil on my baking sheets, but fount that a quick spray of non-stick oil right onto the baking sheet works much better. Foil – great for easy clean up, not good for getting nice charred bits. You will also want to wait until the very end before adding the extra BBQ sauce to make sure the fruit dries out a smidge while baking and so the BBQ doesn't burn.
I made the BBQ sauce because it's nice to know for sure that all of the ingredients are vegan. BBQ flavors can get a little sneaky at times especially when they're throwing around the "natural flavors" curveball.  If you have a favorite BBQ sauce that you know is vegan feel free to swap that for the one I made in the recipe to save some time.
I have paired some accruements that go well with these Tex-Mex style tacos – pickled red cabbage slaw and pineapple salsa.
You'll want to shred the red cabbage pretty thin for the slaw, I used a knife but if you have an accommodating mandolin it might get the job done a bit quicker.  In the recipe I used granny smith apple balsamic vinegar, but you can certainly just use apple cider vinegar.  You will want the cabbage slaw to soak up the sweet pickling juice so make this at the very beginning, set in the fridge and give it a little toss every once and a while.
While you are waiting for the jackfruit to cook down you can start chopping up all of your salsa ingredients.  I like my things super spicy so I added a whole jalapeño in mine.  If you don't like heat you can sub for a green bell pepper.  If you cannot locate a fresh, ripe pineapple you can certainly turn to canned or frozen versions for this recipe.  After I've diced my veggies I like to add them to a colander over a catch bowl to drain some of the juices – I don't like watery salsa unless it's restaurante style with some freshly made tortilla chips.
The corn tortillas called for in this recipes just felt right, sort of a nod to cornbread and BBQ. I really love a touch of char on my tortillas, but the frail nature of corn tortillas can make achieving that difficult.  More often than not I just double up the tortillas so it's more sturdy.  I have read numerous sources that instruct to quickly dip the tortilla in water and place on a nonstick or cast iron pan at about med-hi heat.  My success rate was about 60%, so if you don't want to bother just go for the flour tortillas, they're much more forgiving.
Let's make it!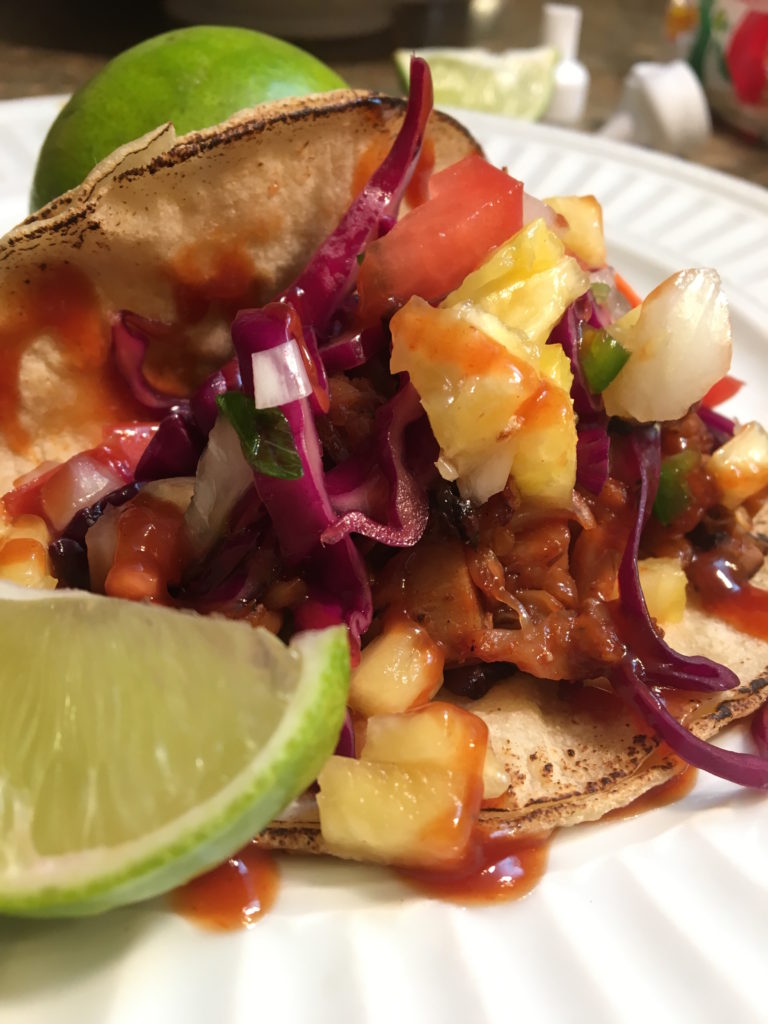 Vegan BBQ Jack Tacos
Ingredients:
BBQ Jack
2 cans young green jackfruit in brine or water (not syrup)
1/2 large onion, roughly chopped
3 garlic cloves
2 tbsp chili powder
1 tbsp paprika
1 tsp cumin
1/4 tsp cardamom
1/4 tsp cinnamon
1/2 tsp dried thyme
1 tsp onion powder
1 3/4 c vegetable broth
1/4 c agave syrup
3 tbsp apple cider vinegar
2 tbsp tamari (or soy sauce)
1 tsp liquid smoke
Red cabbage slaw
1/2 of 1 red cabbage, thinly sliced (about 2 c)
1/2 c grated carrots (optional)
2 tbsp olive oil
3 tbsp apple balsamic vinegar (or apple cider vinegar)
2 tbsp coconut sugar
1 tsp kosher salt
Pineapple salsa
2 c pineapple, diced
3 Roma tomatoes, diced
1/2 onion, diced
1 jalapeño, diced
juice of 1 lime
1 tsp kosher salt
BBQ Sauce
1 c ketchup
1/4 c brown sugar
1/4 c molasses
4 tbsp apple cider vinegar
1 tbsp tamari (or soy sauce)
1 tsp onion powder
1/2 tsp mustard powder
For serving:
toasted corn tortillas
lime wedges
Recipe:
Drain and rinse the jackfruit, removing as many seed as possible.  Slice longwise through the segments (through the core).  Add jackfruit, onion, garlic and spices to an oiled pot and cook at med heat for about 5 minutes.  Add vegetable broth, agave, vinegar, tamari and liquid smoke to pot, bring to a boil.  Cover and reduce heat to simmer.  Cook liquid down for about 50-60 minutes, stirring about every 20 min.
Add cabbage, carrots together in a mixing bowl.  In a microwave safe dish add oil, vinegar, coconut sugar and salt.  Microwave for about 1.5 minutes stirring every 30 seconds until sugar melts into brine.  Coat cabbage mixture with brine. Toss. Refrigerate until needed tossing at least 2 more times while it rests.
Mix together pineapple, tomatoes, onion and jalapeño in a colander. Place a bowl under and let drain for about 30 min.  Add lime juice and salt.
Preheat over to 400° F. Add all BBQ sauce ingredients into sauce pan and cook down on med-lo heat for about 20 min.  Once all of the jackfruit moisture is cooked down, gently pull segments apart and mash slightly.  Spread pulled jackfruit out on baking sheet lightly coated with cooking spray. Place in the preheated oven for 20-30 min.  Try to achieve some char and crisp up the edges a bit. Remove from oven and gently mix in BBQ sauce.
Serve with warm tortillas, lime wedges and extra BBQ sauce.